Mechanical Quick Coupler For Mini Hyundai Excavator
Hyundai

SHANDONG,CHINA

About 30 DAYS

1000PCS PER MONTH
Advantage of Mechanical Quick Coupler For Mini Hyundai Excavator

Double Safety System
A switch in the cab enables you to have the safety pin in its "lock" or "release" position effortlessly. Therefore, you needn't getting off the cab.

A revolution technology to turn on and off the Safety Pin is not by oil-pressure but rather by using an excavator's battery-powered electrical system.

The loudspeaker automatically sounds and warns in the cab can be sure the connections, if the electricity gets disconnected, it's possible to switch to a manual operation.
Mechanical Quick Coupler For Mini Hyundai Excavator
Keywords:Excavator Quick Coupler, Hyundai Quick Coupler, Mini Quick Coupler,
Mechanical Quick Coupler, Mini Excavator Quick Coupler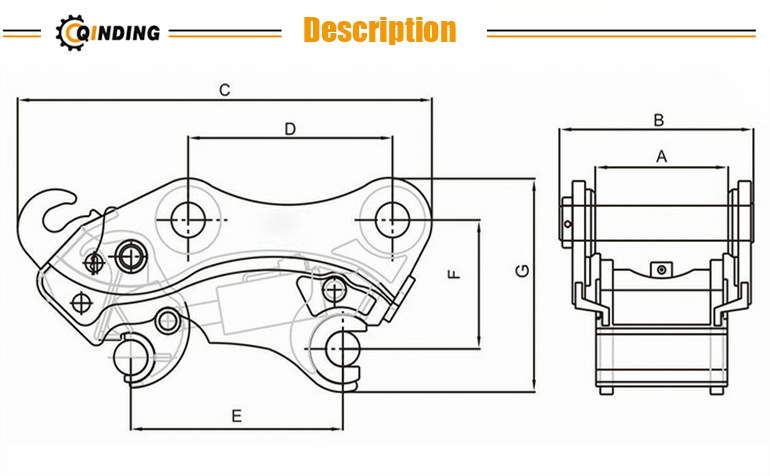 Item

unit

QDHCMINI

QDHC02

QDHC04

QDHC06

QDHC08

QDHC10

QDHC17

Overll Lenght C

mm

388

534-545

600

765

924-944

983-1050

1006-1173

Overall Height G

mm

246

307

310

388

492

574

558-610

Overall Width B

mm

175

258-263

270-280

353-436

449-483

543-568

606-663

Foream Open Width A

mm

80-140

155-170

180-200

232-315

306-340

375-411

416-469

Pin To Pin Center
Distance D

mm

80-150

230-270

290-360

380-420

460-480

473-540

550-620

Retractable Distance
Of Oil Cylinder E

mm

170-206

205-275

340-450

340-486

256-590

413-590

520-590

Top To Bottom Pin
Distance F

mm

159

195

195

220

275

300

360

Pin Diameter

mm

25-40

45-50

50-55

60-70

70-80

80-90

90-120

Weight

kg

25-30

50-60

80-90

120-130

280-290

450-530

450-580

Working Pressure

kg/m2

40-380

40-380

40-380

40-380

40-380

40-380

40-380

Required Oil Flow

l/min

10-20

10-20

10-20

10-20

10-20

10-20

10-20

Suitable Excavator

ton

1.5-4

4-6

5-9

9-19

17-23

23-35

33-45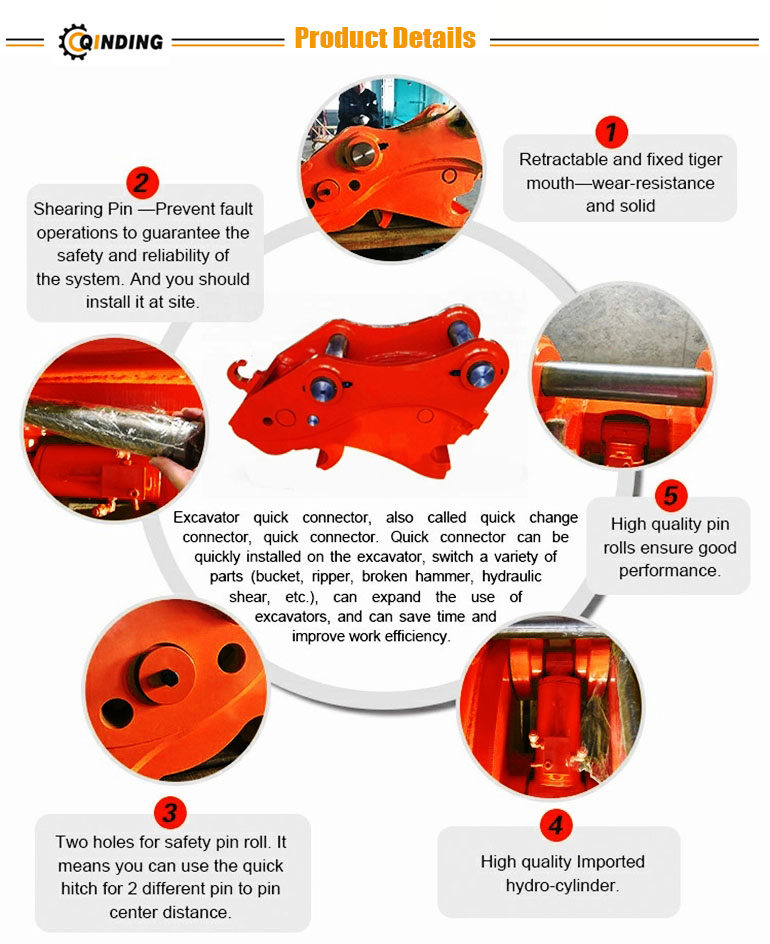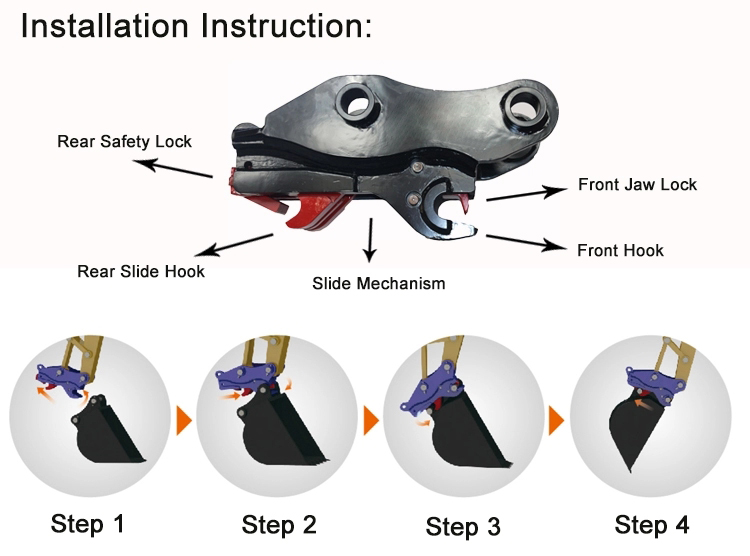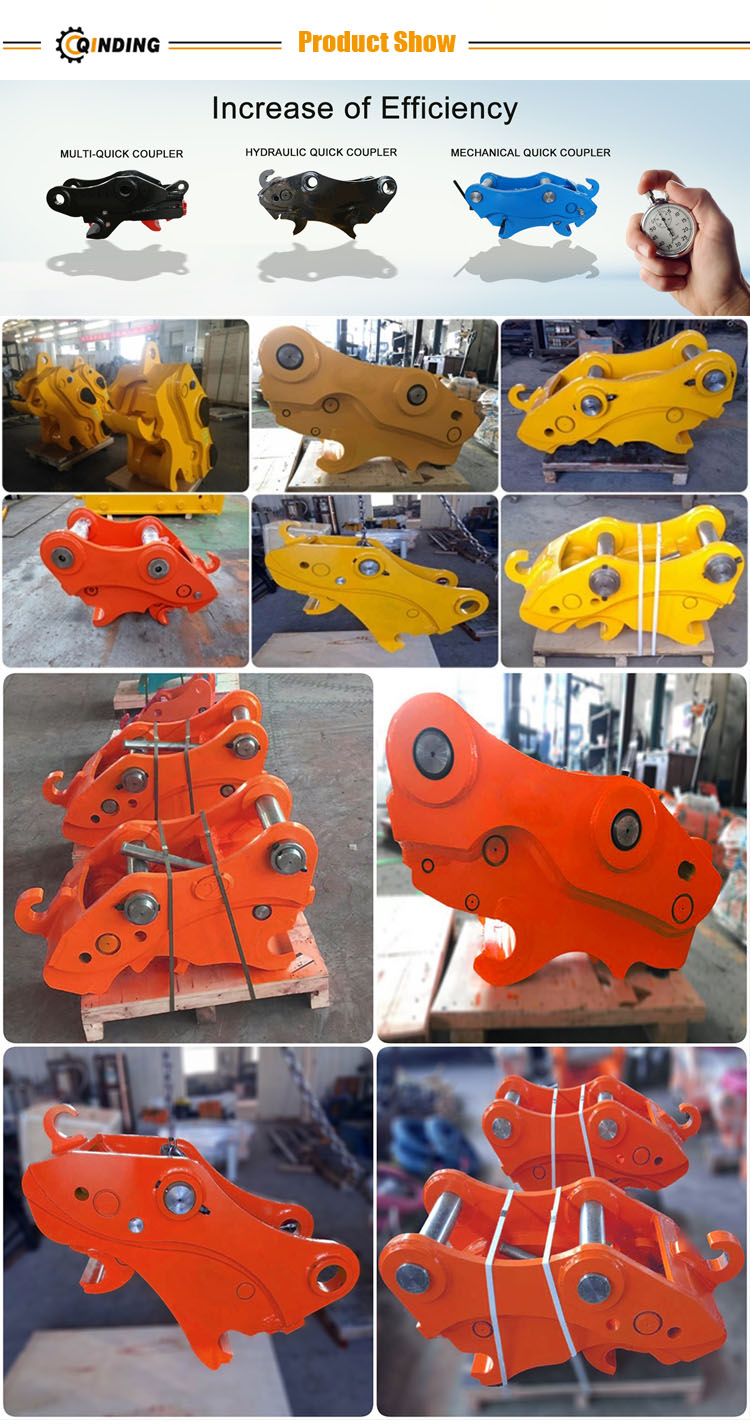 >>>Application of Mechanical Quick Coupler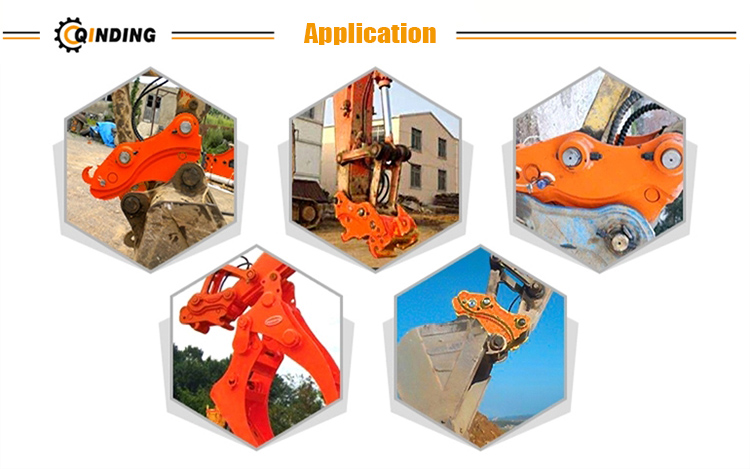 Mechanical Quick Coupler For Mini Hyundai Excavator